Ray Lynch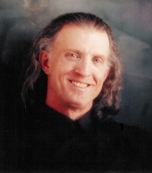 Ray Lynch is a man of many talents. He is best known for his Platinum selling album "Deep Breakfast", a classic of the genre, and the first independently released album to be certified Gold. To date Ray has written 5 albums; his latest, "Ray Lynch Best Of" includes 3 new pieces of music, "No Blue Thing" won 2 Billboard Awards, "Nothing Above My Shoulders but the Evening" his most classical album, and "The Sky of Mind", his debut album. Ray has won 3 Billboard Awards, including Artist of the Year, and sold well over 2 million albums.
It is the communication of deep and profound feeling, at once sensual and transcendent, that lies at the heart of Ray Lynch's musical sensibility. Classically trained in Spain, Ray was one of the first serious musicians to embrace the use of new musical technologies, combining them with a full range of acoustic instruments to create melodic, highly emotional musical recordings.
Ray lives in Northern California where his passions are music, mathematics, and hiking. Ray does not perform.
Click here to visit Ray's official home page.